Taking the hotel toiletries is a time-honored tradition. While travelers don't always do this, it's likely that everyone reading this has tossed a lotion or soap in their bag at least once. Some people even collect hotel soaps or hotel shampoos. But, can you buy hotel toiletries? The answer may surprise you.
---
Can I buy Hotel Toiletries?
Yes, many hotel toiletries can be purchased directly from the hotelier or elsewhere including high-end brands like Le Labo.
As an Amazon Associate we earn from qualifying purchases. We may also earn commissions from other affiliate programs as applicable. Click here to read our privacy & disclosure page.
Hotels have a vested interest in providing a delightful experience for their guests and many sell some of that experience to consumers. Replicating the hotel experience at home is something many travelers attempt to do.
Be it a comfortable bed, or cushy pillow, or even those crisp, cool sheets, people like to bring the best parts of their travel experience home with them and hotel brands are more than happy to accommodate. Many even sell their hotel toiletries to the public; here's how and where to buy the best hotel toiletries.
The Best Hotel Toiletries
Taking unused hotel toiletries is a time-honored tradition. While travelers don't always do this, it's likely that everyone reading this has tossed a lotion in their bag at least once. Some people even collect hotel soaps or hotel shampoos.
When staying in mid-tier hotels like the Hampton Inn, Holiday Inn Express, or Fairfield Inn & Suites, the toiletries aren't likely to inspire. However, most luxury hotel brands offer higher-end soaps, shampoos, and lotions.
Interestingly, these properties give guests the ultimate "try before you buy" situation because, often, guests wouldn't have purchased these brands on their own. Thus, both hotels and toiletry brands are incentivized to provide a memorable experience – even when using the bathroom.
Here's where to buy the best hotel shampoos, lotions and soaps, including the following hotels and products:
Le Labo Toiletries featured in Park Hyatt and Fairmont Hotels
Verbena Toiletries featured in many Hilton properties
W Hotels and Aloft Hotels Toiletries by Bliss
Marriott Hotel Toiletries & Shampoos
It's not uncommon for hotel properties to partner with new shampoo and soap companies and they often vary by the hotel brand within the hotel family. For example, a Hilton may have different toiletries than a Hampton Inn although they are both part of the Hilton family.
Note: Hotel Toiletries change from time to time, and occasionally vary by property. Should you find an error or have updated information about a property's toiletry collection, let us know by leaving a comment, below. We are continuing to build out our directory of Hotel Toiletries so if you have recent experience with a brand, let us know!
Park Hyatt's Le Labo Toiletries
French for "The Lab", this Manhattan premium soap maker allows customers to come into their lab and make custom, personalized scents. They also sell shampoo, body wash, conditioner and even candles for unthinkably high prices – $200/bottle of shampoo or more. But they can get away with it because they truly are the best.
And their toiletries are featured in Fairmont Hotels and Park Hyatt properties.
You can buy them directly from the Fairmont store here, or via Amazon here.
Hilton Soaps & Shampoos
What shampoo does Hilton use? For many years, many Hilton properties featured products made by Peter Thomas Roth, however, Hilton has moved away from their Roth collection (although you will still occasionally see them in hotel properties). Now, many Hilton properties now feature verbena and lavender-infused products as part of their Crabtree & Evelyn collection. Verbena, of course, is a type of flowering plant occasionally used in soaps and shampoos. Consumers can buy Hilton toiletries directly from Hilton's Home Store.
W Hotels Toiletries
The W Hotels and Aloft Hotels brands were previously partnered with Bliss for their soaps and shampoos, however, now these properties feature Davines toiletries.
Marriott Hotel Toiletries & Shampoos
Many Marriott properties feature shampoos and toiletries made by Paul Mitchell.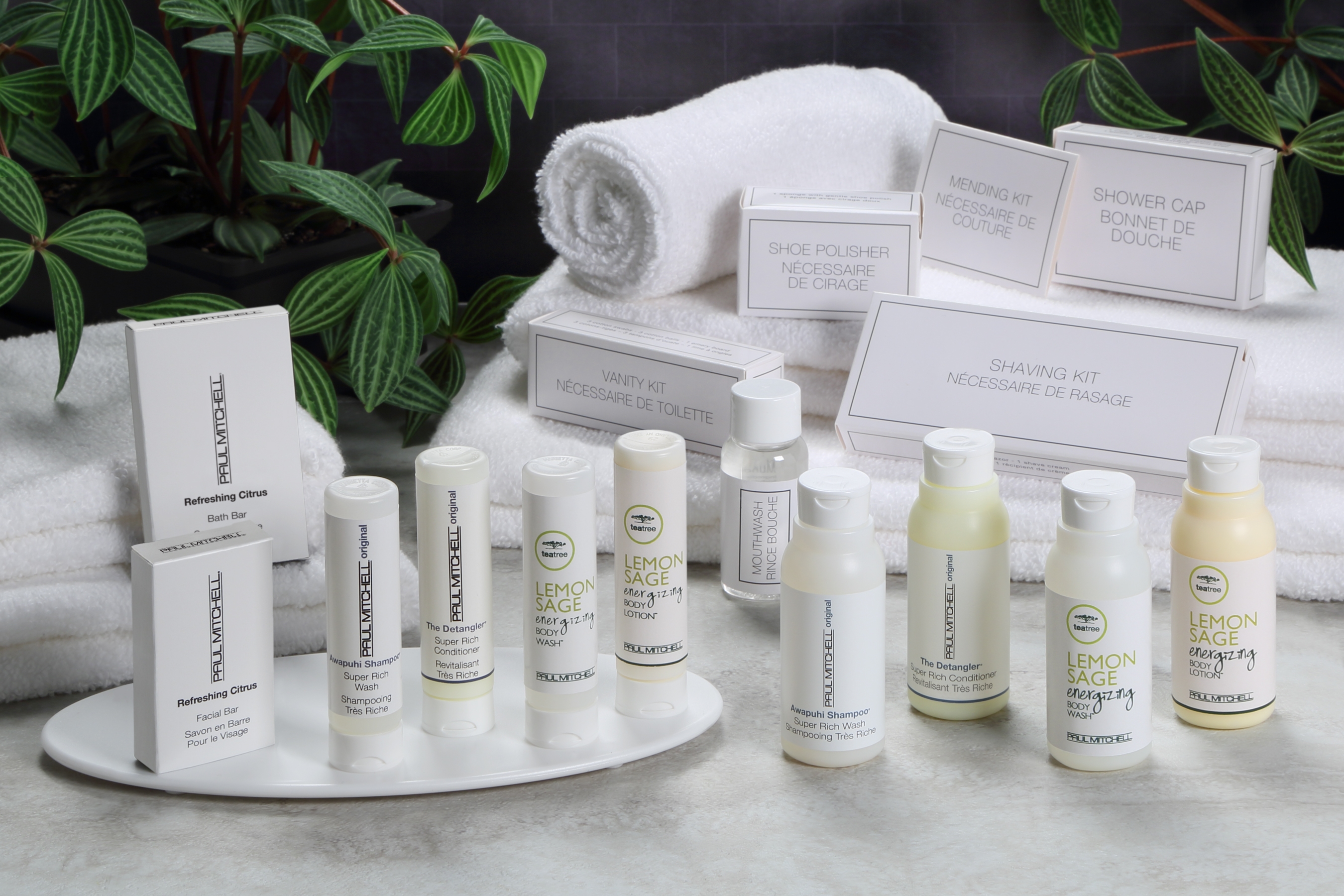 Misc Assortments of Hotel Shampoos and Lotions
Many hotel chains offer a consistent line of toiletry products based on the brand level. One benefit of purchasing high-quality hotel shampoos and soaps is the ability to transfer those good vacation experiences to trips that may be closer to home or even in a vacation rental or Airbnb.
Grand Hyatt hotels offer Joanne Jones, while the Park Hyatt hotels give customers Le Labo, and the business brand, Hyatt Regency, is Pharmacopia.
Some brands are easy to find online, however, they will rarely be offered in hotel-sized containers. In most cases, full-size quantities of shampoo, conditioner, body wash, and body lotion can be purchased with simplicity, but to achieve hotel amenity size, some adjustments will need to be made at home.
Consider adding some of these clear plastic containers, or for ease of use, try colored varieties to easily distinguish between the liquids.
Some Hotel Shampoo are not Available to the Public
The Waldorf-Astoria carried Salvatore Ferragamo, the famous designer's soaps and shampoos. Do you know who didn't?
Salvatore Ferragamo's online store. In fact, the only item I could buy from the collection was from a small fragrance site with a single 2.5 ounce bottle that didn't match the scent I had tried.
Some hotel toiletries are exclusive and the brands that furnish them are interested in being an advertisement for quality but not necessarily in the body care business. The Sofitel Sukhumvit in Bangkok introduced me to Salvatore Ferragamo's line of toiletries. It's really hard to source Sofitel's Hermes toiletries outside of the industry, though not impossible if you have a hotelier connection. This is often the case in luxury hotels where amenity collections add to the exclusivity of the property.
Final Thoughts on Hotel Toiletries
Hotel toiletries provide a great opportunity to test drive brands before you buy them. Sometimes, hotel amenities may not be available even in full sizes especially for extremely rare or limited collections. More common types are available online from the manufacturer or more easily, on Amazon in most cases.
The very best in the business is, of course, Le Labo and should you be lucky enough to stay in a hotel that features the brand, sock some away. It won't be long before you are finding yourself perusing their products online, trying to justify the expense.
---