Summer has arrived and that itch to get outdoors and start enjoying your backyard is on the top of your mind. Backyard games have long been a key part of any memorable summer and this year's summer will be no exception. The backyard staycation will feature prominently this year, and we've identified the 25 best backyard games for the perfect summer staycation.
Best Backyard Games for the Perfect Summer Staycation
Sometimes people can't afford to take a big vacation or a fancy trip. That doesn't mean they don't want to have fun. Hence, your backyard can quickly become hottest new travel destination for you and the family and the staycation become the new vacation.
This means it's time to get your game on. Every successful staycation needs some epic backyard games and that's why we've partnered with some of the best bloggers on the internet to bring you a list of the best backyard games. Yep, these bloggers have shared some of their favorite outdoor games to do in the backyard and we've married their recommendations up with exactly where to buy the coolest and most fun backyard games.
In this collaboration, you will find some new backyard games (like Spikeball) as well some traditional outdoor games (like a sack race or the Slip N Slide). We've looked far and wide and included links to help you compare where to find the best deals on games for your backyard. We've even included some backyard games that don't require you to purchase anything – just bring your imagination and some supplies you probably already have around the house.
Happy shopping and more importantly, happy summer staycation!
Fish Bowl
Submitted by: Cameryn from Multitasking Motherhood
My absolute favorite is called Fish Bowl! You can have ANY number of players but it has to be even because you'll need a partner. The best part of this fun patio game / backdoor game is you don't need to buy anything! Here's how to play:
Each person receives three (or more-depending on how many players there are) small process of paper that they can write on. On this paper, they must write down a noun (person, place, or thing). These responses are then placed in a large bowl!
You want to stand in a large circle with your partner on the opposite side of the circle. The bowl is passed around and depending on the round, you will have a certain responsibility for the word you pull out of the bowl.
Each round is 1 minute and you want to get through as many word as possible in that time frame!
The first round, you can describe the word using any word besides the word itself. Your partner must use this information to guess the word.
The second round, you can only use ONE word excluding the word itself.
The third round, you can only use actions. NO WORDS!
You only have one minute with each turn before you hand it to the next person in the circle so they can try to get as many words as they can with their partner!
Each word you get correct, you keep so it doesn't continue circulating in the bowl that round. At the end of the round, all words are put back into the bowl because there are new rules!
At the end of each round, record how many pieces of paper you have as points scored! So, instead of letting your kid watch 5 hours of uninterrupted TV this summer, get the family together for a fun game of Fish Bowl.
Pin me for later:
Submitted by: Eric from Kickers of Earth
Backyard field goals can be a great way to hang out with friends, and show who the best kicker is. The game can be very simple. Get a pair of goalposts and footballs, and set them up anywhere in the yard with a decent amount of space behind it.
The goal of the game should be to kick the ball through the goalposts. You can make it fun by playing a game of horse where 2 or more players attempt to kick the ball through the uprights at varying distances and angles. When a player makes it through, everyone after that player must also attempt the same kick. Whoever does not make the kick, get a letter. When a player spells out the word horse, (or whatever word you decide) that player is out. The last one standing wins!
What makes these field goal games so fun is it can be done anywhere with about 15 or more feet of space! Enjoy some backyard field goals with the family and see who the best kicker is!
Photo Scavenger Hunts – a "no purchase needed backyard game"
Submitted by: Nicola from See Nic Wander
My family loves to do photo scavenger hunts at my grandparent's house in the summer. Instead of having to find physical objects, we each take our phones and snap photos of things we find that match the items on the list. Scavenger hunt items include things like photographing something red, something that looks like a fish, an animal making a funny face, or the most interesting plant we can see.
Since my grandmother is a photography enthusiast, we always got extra points for unique compositions. Going through the photos at the end of the day was a blast and the variety in the photos was amazing. If you're looking for a fun outdoor activity that requires very little supplies, just a lot of imagination, the photo scavenger hunt is a great choice.
Bocce Ball – a timeless classic and one of the "funnest" backyard games you can play
Submitted by: David from Survey Fanatics
When I'm not inside filling in surveys, I love some time outside playing bocce with my housemate or friends.
Bocce is a simple ball game you can play with a bocce set which has a small target ball, eight larger balls (preferably of two different colors) and a tape measure. You start by one player throwing the small target ball, preferably about 30 feet away.
The teams or players then take turns throwing each of the balls trying to get them as close to the target ball as possible. You can knock out the other team's ball or move the target ball with your throw.
At the end of the round, whichever team or player has the closest ball gets a point. Or if your ball is touching the target ball, you get two points. You keep playing until a team has reached a number of points set beforehand. Ten can be a good number.
It can be played on any level ground which is part of why I love this game – even in a small courtyard, you can play a game of bocce. You can play with just two people or with teams.
Bocce is one of the oldest yard games in the world. There is evidence that it was around back in 5000BC where some Egyptian cave paintings show people playing something that resembles bocce! The Ancient Romans and Greeks were fond of the game playing with anything they could find like coconuts, bound rags and melons.
Potato Sack Races – simple, fun and lost-cost yard game
Submitted by: Kelly from Urban Garden Gal
Potato sack races are a fun and inexpensive way to keep the kids entertained in summer. They're also great for kids birthday parties. All you need is some old potato bags or if don't have any at home you can substitute just about any type of large bag. Pillow cases work well for small kids or you could use sleeping bags for the older kids.
Compare Prices:
The rules are simple, just put both feet in the bag, hold on to the top and hop as fast as you can to the finish line. To make things more interesting, you can get the kids to balance an egg on a spoon with one hand as they hop along or set up a track in the backyard so the kids can race around the vegetable garden.
Submitted by: Stephen from Asia Hikes
When we aren't stomping around in Asia we are hanging out in our backyard enjoying life. One of our favorite games is Ladder ball. This game is everything a good backyard game should be: easy to learn, takes some skill to perfect, quick to assemble, and fun to play for many many rounds in a row.
Games are typically one on one, though our family often alternates turns with teams of two on two, but it's easy to set up a round-robin style tournament to include as many participants as you could want.
Compare Prices:
The rules are simple. Each player takes turns hurling a bola at a standing target of three vertical steps. Points are scored by the bola landing on steps (three points for the top, two for the middle, one for the bottom) and staying till the end of the round – a tally is taken taken at the end of each round and the first player to exactly twenty-one points wins.
The fun of ladder ball is largely in the hyper-competitiveness – there's something very satisfying about using the last of your three throws to knock off your opponent's bola and steal their points away at the final second of a round. The game is a great excuse to get out in the backyard for twenty minutes or an hour to enjoy a few rounds in a short time.
Submitted by: Pearl Haskins from Own the Pool
Spikeball is sweeping the world and has grown significantly in popularity over the last 12 years! There are now professional tournaments of this game that are played.
If you like fast-paced, physically active, team-oriented games, Spikeball is the perfect game for you. The rules are very similar to volleyball and involve hitting a ball into a circular net and not letting it hit the ground.
Also, like volleyball you and your teammate have 3 hits to get the ball on the net. Bump, Bump, Spike! It requires teamwork, speed, agility and communication.
Compare Prices:
The ideal number of players is 4 with 2 against 2, but it can also be played as 6 with 3 against 3. What is unique about Spikeball is that both teams can have all 360 degrees around the circular net to move after the ball. You can imagine the level of exercise you could get!
We like to play Spikeball at our backyard pool parties as a complement to our swimming pool games. It is a ton of fun to play, then we jump in the pool to cool off!
Organize A Photography Challenge
Submitted by: Juliet from Live your Dream Today
Love taking photos? Have a friend over who shares this passion and get creative together. Try new techniques and look for unusual angles. Shoot everything macro or aim for those cool long exposure pics at night.
Make it a competition and compare your photos and perspective in the process. Photography challenge is among those fun things to do at home that also teach you some cool skills and boost your creativity.
Look around! Your backyard is probably full of seemingly boring things that can make cool props for epic photos. If you happen to have a pool, why not explore underwater photography or incorporate some splashes into your photos? But make sure your camera is waterproof first!
Whether you prefer portraits or landscapes, try something new this time. Play with the shadows, the light, and your camera modes. This is a great way to have some fun at home, spend quality time with a friend, and up your photography game at the same time!
Four Square Volleyball (aka CROSSNET)
Submitted by: Mark from Vogatech.com
A fun new backyard game has arrived courtesy of the backyard geniuses at CROSSNET! Four square volleyball is the perfect game for your backyard. Gather your family or friends and enjoy the game. The game involves 4 players who position themselves in the four corners of the play area. There are also some basic rules of the game:
The game starts when one player serving from his corner.
Player can serve to any of the other three players.
Each player can only touch/hit the ball once before it falls to the ground
The player must not throw the ball off the area of play
You can change these rules of the game as you wish if you want to adapt the game to you. Our advice is to try to play the game with two volleyballs. Incredible fun and laughter are guaranteed. You can also split into teams and make the game more interesting. The advantages of this game are that the whole family can actively participate in it.
Where to buy:
Currently CROSSNET is only sold directly from the company or at physical sports equipment stores. It will run you around $149.99.
Badminton – a classic backyard game for every summer
Submitted by: Clara from Petite Capsule
Badminton is a fun backyard game for two to four players. It's a rackets sport similar to tennis, but with lighter rackets, a smaller court, a higher net, and a shuttlecock. A shuttlecock is an open conical shape formed from overlapping feathers fixed to a rounded cork base. Synthetic shuttlecocks are also used.
Compare Prices:
To win a Badminton match, you need to win two out of three games. You win a game when you get 21 points. Points are awarded when your opponent does not hit the shuttlecock over the net in one strike, hits it out of bounds, or lets the shuttlecock touch the ground on their side of the court side.
The simpler and lighter set up compared to tennis makes it perfect as a backyard game. You can change the pace of rallies from fast to slow depending on how hard the shuttlecock is striked. This makes it suitable for playing with younger kids although you will still have to find something else for the babies to do. Badminton is one of the best backyard family games.
Cornhole – the definitive backyard game
Horseshoes was, for many years, the definitive backyard game. However, by all accounts, Cornhole has supplanted 'shoes as the go-to game for backyards, side yards, streets, drive ways, parties and more. It's easily accessible by all levels of players – even the little ones and it's good fun for the family, or a group of buddies swilling Buds.
Toss a bean bag in a hole. Keep score. That's it. It's both easy and difficult enough to scale up or down to the player's skill levels. Honestly, every backyard should own a cornhole game.
Compare Prices:
By purchasing an unfinished board, as pictured above, you can apply your own custom finish. Make it fun by grabbing your family and designing something that reflects your family's interests or personality. All you really need is some paint and maybe some stencils.
Horse Shoes – probably the first lawn game / backyard game ever played
The original backyard game, horseshoes, has been around since the early 20th century. This game has waned a bit in popularity, supplanted by a simpler and more accessible game known as Cornhole, but horseshoes still holds a special place in many people's backyard games.
It's often the "game you play at Grandpa's house" and it's name instantly brings on nostalgic memories from years past as the 7 year old you saw the old men pitching shoes, drinking beer, and smoking Lucky Strikes.
While this lawn game may have waned a bit in popularity, its still the fun and challenging game it ever was and could be a nice addition to your backyard if you want to avoid being "another backyard cornhole game kind of guy."
Compare Prices:
The long hot summer means the kids want to get wet. Why not buy or build a dunk tank? Stick dad in tank and let the kids laugh hilariously when he gets dunked. You can certainly buy your own dunk tank, but they are not overly difficult to build either. Here's a good video to show you how:
Where to buy: Amazon
Slip n Slide – one of the best backyard games you can get for a hot summer
Speaking of long hot summer, a slip n slide is a classic with the kids. As an upside, it makes for great funny video filming opportunities – especially when adults try to use it. If you don't mind destroying a patch of backyard grass, the slip n slide is always a hit with the family.
Are you a golfer who loves cornhole? Mix the two together with this clever mashup. The Beer Pong Cornhole set is a fun twist on two games that's probably best played by older kids or adults. Whether you drink or not is on you!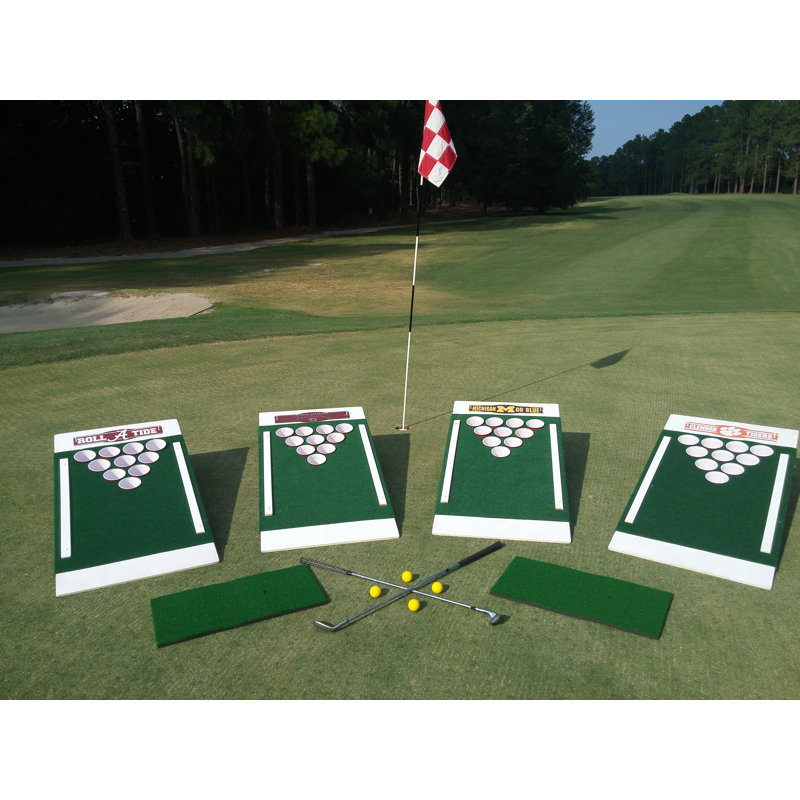 Compare Prices:
Scavenger Hunt
Submitted by: Sharee from Inspire Family Travel
A scavenger hunt is a brilliant game that can be based around different themes and is only limited by your imagination. The perfect game to accommodate many players, as there is no set limit on how many people can participate. It is also a game that does not discriminate on age as a scavenger hunt can be created for adults or children.
Versatile enough to be both an indoor or outdoor backyard game, a scavenger hunt does not require a lot of equipment, making it very inexpensive. The main aim of this interactive game is to locate all the items from a list you are provided. One of the brilliant aspects of this game is it doesn't have to follow the standard principle where everyone competes to win. Scavenger hunts can bring enjoyment without a competitive edge, but if players prefer the excitement of competition, the first person who locates all items on the list wins.
A backyard scavenger hunt is a fun way to get your family out in nature, as you can separate the list into things to look for, something to listen for, and things to feel.
Some Other Fun Backyard Games to Consider
If none of the above outdoor games tickled your fancy here are several other fun options to consider this summer.
Giant Sling Water Balloon Slingshot – launch water balloons at your neighbors backyard…7 houses down! See our entire Backyard Water Toy guide here!
Water Balloon Dodge Ball – water balloons needed. Agility not.
Lawn Twister – spray paint a twister board on your lawn and get twisting! (amp it up with a hose for more fun!)
Backyard Yahtzee – super size this classic game and take it out back!
Giant Jenga Set – watch your toes, though
Supersized Connect 4 Set – should be fun!
Glow in the Dark Lawn Bowling – fill up empty water bottles with glow sticks and water and tape some glow in the dark tape on a soccer ball and boom.
Croquet – another timeless game that everyone loves
Glow in the Dark Capture the Flag – a fun outdoor game for night
Throw the Burrito – dodge ball + cards + burritos? What could go wrong?
Giant Beer Pong – played like regular beer pong, but use large plastic trashcans and a soccer ball
Speaking of games, be sure to check out our Best Travel Games guide – a massive list of board games you can play on the road or at home!
Don't Have a Backyard?
Why are you reading this guide, then!?? LOL…sorry, we couldn't resist. But yeah, we get it. Not everyone has a backyard. No worries. You probably have access to a park and many of these games can easily be played at the park! So yeah, no sweat!
Thanks, stay safe, and try to have some fun playing these backyard games this summer!
Wow! So many fun games to play in your backyard it's hard to choose. We may not be going to many places this summer (thanks COVID…) but hopefully we can all enjoy our families and backyards a little more. Invest in a few fun backyard games and make this a summer to remember.
So, what game did we miss? What's your favorite backyard game? Drop us a comment below or tweet us. We'd love to add to our list!
---
Like many of us, you are probably struggling to find your new normal. Perhaps you've done that and are simply bored. We've got your back. Here's a ton of recent content that revolves around what's facing us today, including working from home ideas, what to watch, things to read, and how to avoid boredom. Enjoy.
Affiliate Disclosure: As an Amazon Associate I earn from qualifying purchases. I may also earn commissions from other affiliate programs as applicable.