Long layovers and canceled flights are just some of the reasons passengers find themselves in an airport when they should be sleeping. This is how to sleep in an airport…from someone that has.
How to Sleep in an Airport – a practical guide
It's hard enough to sleep well when traveling, but pulling it off at the airport? Ouch. Uncomfortable chairs, noisy terminals, bright lights, and more, all conspire against the traveler looking to catch a few z's at the airport.
Why would you sleep at an airport? There's a myriad of reasons a person might find them in need of some shuteye at the airport. Often, though, it's because something went wrong.
A delayed or canceled flight that left you with 4 hours to kill until the next flight. Been there, done that. Maybe your layover is just really long – perhaps because of an international flight. Or maybe you listened to your Aunt Sue who told you to get to the airport 2 1/2 hours early and now you have 2 hours to kill before your flight leaves at 6 AM. Ugh!
Here's our guide to sleeping in airports – whatever the reason may be – including the good, better and best options to actually get some sleep.
When things go awry: making the most of a bad situation
Not everyone can afford comfort when traveling, others simply prefer saving money for just a few hours of sleep. Not to worry, there are plenty of ways to sleep in an airport overnight that will suffice for limited periods of time. Even if you will be spending the night on an international airport floor, there are ways to make the most of it.
How much time do you have?
How much sleep do you really want?
How much time do you have to sleep and how much do you really want?
The amount of airport sleep you need or can even get will help determine how and where you try to get that sleep. For example, if you have a 3-hour layover, using an airport hotel dayroom won't make sense. Deep sleep isn't going to be ideal here. Instead, it might make more sense to find a quiet airport corner to close your eyes in for an hour or so. On the other hand, if your flight was canceled and you have, say, a 9-hour delay (or even longer) your options for restful airport sleep get a little more interesting.
Options for airport sleep
Options for airport sleep include:
Crash out in an airport chair
Lay on the floor
Use an airport lounge
Use an airport sleep pod
Book a dayroom in an airport hotel
Sleeping near your gate
When snagging a quick nap travelers have a few options. Sleeping in your chair is one option, but rarely a great one.
Many airport seating arrangements have armrests that make it difficult to lay down and stretch out. This is somewhat intentional as too many passengers lounging around a gate will use up the available seating for other passengers. If you are going to sleep in a chair you will most likely be doing it upright. As such, try to find a spot where you can lean your head against something. A wall, pillar, or window can provide a solid surface to lean your head against making it easier to take a short nap at the airport.
If you are so fortunate to find seating that allows for the full stretch out – grab it, but take care to be sensitive to fellow travelers. Is the gate busy? Are you taking up 3 to 4 chairs for your nap when granny is forced to stand?
Alternatively, travelers could find a spot on the airport floor to stretch out. This is seldom a good option for business travelers who may be traveling in attire not conducive to lounging about on a cold, dirty airport floor. Leisure travelers, however, may find the floor more appealing. Try to find a quieter spot to catch your nap – a spot out of the way of too much foot traffic and noise.
Using Lounges to Your Benefit
Airport lounges can be a nice stopgap during weather delays and some evenings. Many premium credit cards grant access to weary travelers for entry. Inside airport lounges, many will find opportunities to sleep in quiet and dark rooms. Some of these can be booked for hours and while they are not beds, these loungers will give peace, quiet, dark and relaxing spaces to travelers who need some rest. Airport lounges also serve a variety of foods that can promote better rest that the food court will not.
For frequent travelers of a single particular airline, purchasing a membership (either with cash or points) can offer some respite. Another option is to simply buy access by the day. Some lounges are as inexpensive as $25, though most run $50 for a day pass.
Others, like Centurion Lounges from American Express, are solely available to cardholders, and day passes are unavailable. Coincidentally, American Express owns Lounge Buddy which sells single day passes to other lounges. Priority Pass Memberships also provide a convenient way to access lounges across the world.
Airport Sleeping Pods
An airport sleeping pod can be a great option for tired travelers. Firms like GoNap and Minute Suites offer in-airport cabins designed for weary travelers. Some even feature showers and desks. For example, Minute Suites lounges, available in many airports around the world, feature showers and a couch that can be converted into a bed, a desk, TV, and workstation as well as snacks for purchase.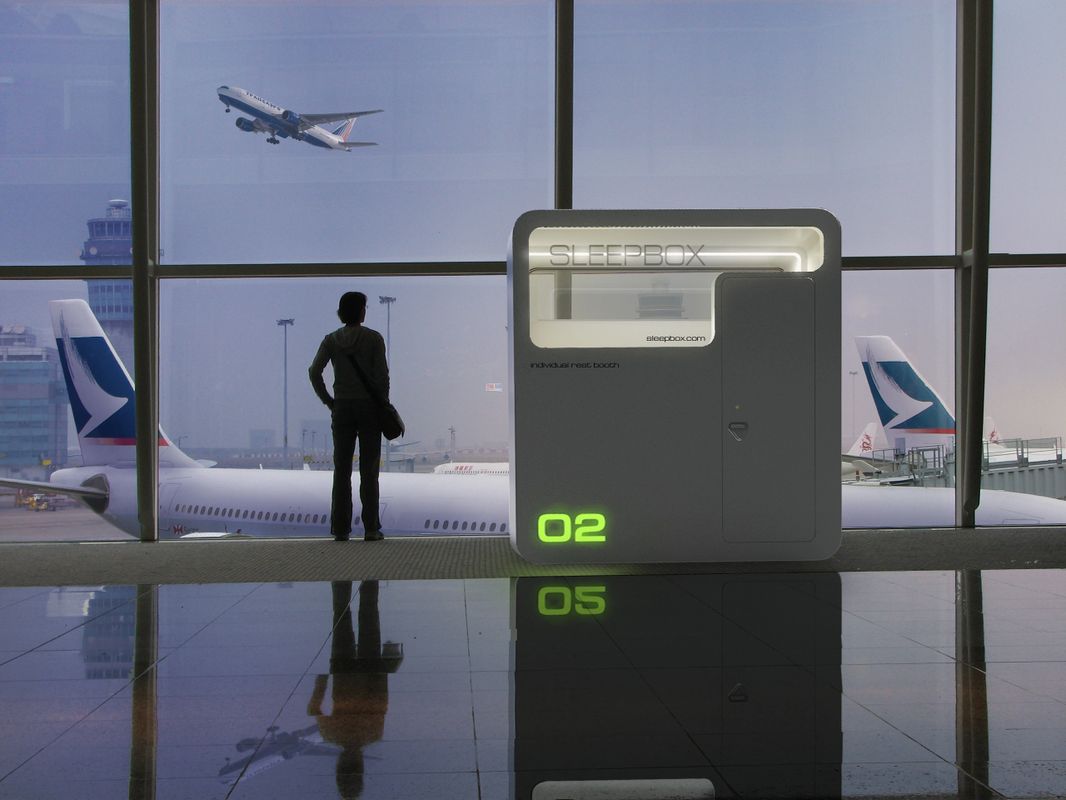 Other sleeping pod options include:
Hotel Dayrooms
Most on-property airport hotels are empty during the day as guests check out in the morning and new ones arrive late at night. Many of these hotels will sell their rooms for a nominal fee available for a limited period such as 9 am to 9 pm for $50-90, and a normal bed – even if it's just a hotel bed – is better than the cold floor of your terminal gate. Besides, who doesn't love a comfy hotel pillow in lieu of a wadded up coat?
Those on short overnight connections may want to utilize their points to offset the cost of a stay. For those guests with status, this might include a meal too like afternoon canapes in the lounge or breakfast in the morning.
Airport hotels are always worth it if you have the time and money.
Don't forget
Like any smart traveler, being prepared is important. This is true even when trying to sleep at said airport. Here's a few final thoughts to keep in mind:
Don't miss your flight, set an alarm, listen for the overhead announcement, etc.
Keep an eye on your stuff – you'd hate for it to wander off while you are snoozing
Use a neck pillow and eye mask to block out the light and make yourself comfortable.
If you are looking for a clever neck pillow, give the Trtl Pillow Plus a shot. It allows you to sleep upright – something you might have to do if you don't have the time for a better sleeping option or can't locate a quiet spot to stretch out.
Conclusion
When you encounter a long layover during the day, a short overnight connection, or a weather delay at the airport, review your options. If you have the budget, stay in an airport hotel, especially when connected to the terminal. If not, maybe a lounge is a better fit, or find a cozy corner and curl up.
---