The "hottest new travel accessory" is the face mask or face covering. Sadly, that sentence will likely be true for a while as the travel industry starts to ramp back up while still in the midst of the COVID-19 pandemic. We've assembled a list of the best face masks for travel and where to buy them. We've also provided a few ideas should you want to make your own mask.
Are Face Masks for Travel Needed?
Although not universally required, it appears that face masks for travel will be needed (or at least helpful) for most travel for the foreseeable future.
Currently, many airlines now require face masks for travel. JetBlue Airlines was the first carrier to require passengers to wear face masks and was quickly followed Delta, Alaska, Southwest, Spirit, Aeroflot, BA, etc (see all Airline face mask policies here).
JetBlue's Face Mask policy states, "Starting May 4, all customers are required to wear a face covering over their nose and mouth throughout their journey, including during check-in, boarding, while in flight and deplaning." They further note that "young children who are not able to maintain a face covering are exempt from this requirement.
Most airlines have a similar policies and several (like Delta) recommend travelers wear them in check-in lines, airport lounges, restrooms, the gate area, and so on.
Moreover, while the TSA has not required them, they do allow them now. And, it's entirely likely that other travel providers and travel related companies or places will be enforcing some sort of face covering policy. In fact, some airports (like LAX) are now requiring them:
What does this mean for travelers in the foreseeable future? It means you will need to bring a face mask with you on your next few journeys and perhaps for a very long time. Moreover, it's entirely possible that in addition to a face mask, travelers may be required to have their temperature taken on a regular basis when traveling.
Note: for our part, here are the CBoardingGroup, we are setting aside any political aspects of mask wearing and simply talking about what is required and how you find one. Moreover, we are not medical experts here at the CBoardingGroup and make no comment as to medical benefits of using a face mask, including those listed here, on preventing communicable diseases. As always, consult a licensed medical professional and/or the CDC for further guidance.
What is an acceptable face mask for travel?
Most airlines require a face covering for travel now. Acceptable face masks for travel typically include a cloth based item that fits snugly on the face, covers the mouth and nose, and can be secured with ties or ear loops. It should allow for unrestricted breathing.
Many airlines simply refer to the CDC's guidance on face coverings which is extremely thorough.
Examples of acceptable face coverings for travel include:
Non Surgical Grade disposable face masks
Reusable face masks
Bandanas (no longer acceptable by most airlines)
Masks with vents (no longer acceptable by many airlines)
Painter's masks
IMPORTANT: All published guidance from airlines, the CDC, Public Health Departments, etc, is clear: N-95 Masks and Surgical Masks should be reserved for medical professionals. Travelers do not need an N-95 face mask or surgical mask, nor should they use one.
What should you consider when buying a face mask for travel?
When considering a mask to use when traveling there's a few simple factors to consider. It's important to not over-complicate this, but it does make sense to contemplate a few things:
Re-usability / Wash-ability: can you wash the mask and reuse it? Do you prefer to do that or would your rather use and toss the mask? This may be a personal preference.
Comfort: If you have a beard wearing a some types of face masks for long periods of time may be uncomfortable. Additionally, if you have a sensitive face (including ears) you might opt for a tube-style face mask instead of an ear loop style.
Fit: The mask should cover you mouth and nose and fit snugly, but not overly tight, on your face.
Style: admittedly, this is far less important, but there's no reason to not consider how you will look wearing the mask.
Again, it's important not to over think this, but it is worth asking yourself what kind of mask you'd prefer to wear on the flight you are taking. Pick the wrong mask and you could be in for a very uncomfortable experience on that long haul flight.
Where to buy Face Masks for Travel
There are countless options available when it comes to Face Masks. We've collected several models here based on affordability, suitability for travel, material variation, and other factors. Ultimately, choosing a face covering for travel will be a personal choice, but we think you will like some of the models we've shared below.
The EVERYMARKET Face Mask is a plain black face covering made from soft cotton. It's relatively affordable, reusable, and fits most face types. Because it's black it will go with most outfits.
Material: Soft Cotton
Comfort: Very comfortable
Tie Method: Ear Loop
Reusable: Yes
Washable: Yes
Price: $$ / $$$$
The Universal 4521 Face Masks are designed for an active lifestyle. If you the kind of traveler who likes to run or exercise during your trip, this mask might do the trick. Lightweight, breathable soft cotton with comfortable ear loops allow users to wear this mask for extended periods of time (like on a long plane flight) or during a physical activity.
Material: 100% Cotton
Comfort: Very comfortable
Tie Method: Ear Loop
Reusable: Yes
Washable: Yes
Price: $$ / $$$$
Travelers could opt for the disposable method and there are no shortage of these sorts of face coverings for sale. One example, below, allows you to buy in bulk with 100 masks per order. These are single use masks that are meant to be tossed after one use. Travelers could bring a small stack of these with them and wear them throughout their trip – tossing one after each use. For travelers not interested in the hassle of washing a mask, this approach is a simple and typically affordable way to go.
Material: Non-Woven fabric
Comfort: Average
Tie Method: Ear Loop
Reusable: No
Washable: No
Price: $ / $$$$
Disney has entered the face covering business with an entire line dedicated to various Disney properties. These face masks are currently available for pre-order, but feature popular Disney characters like Baby Yoda or Frozen.
See full list of Disney Masks here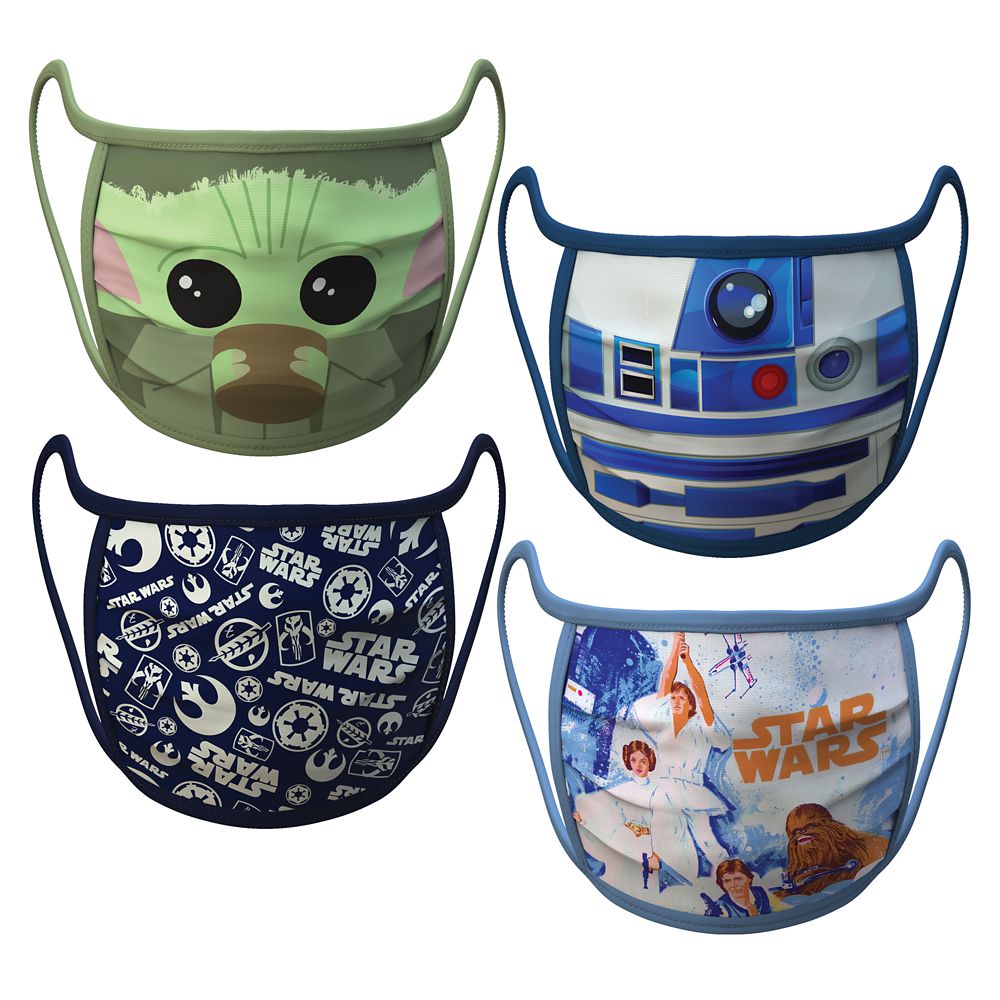 Material: Cotton on the inside / polyester on the outside
Comfort: Very comfortable
Tie Method: Ear Loop
Reusable: Yes
Washable: Yes
Price: $$$ / $$$$
Quirky air travel enthusiast AirporTag has released a collection of face coverings that are styled after many of their other fun products. As usual, their collection of products features their iconic travel-themed sayings or graphics. For the travel enthusiast it's easy to geek out on just about anything from AirporTag. Here's a few examples:
Material: Polyester
Comfort: Comfortable
Tie Method: Ear Loop
Reusable: Yes
Washable: Yes
Price: $$$ / $$$$
This face mask is definitely unnecessarily expensive, but if you have money to waste and a more traditional face mask won't do the Rag & Bone model will do the trick. On the plus side, they donate $15.00 to charity if you purchase the mask.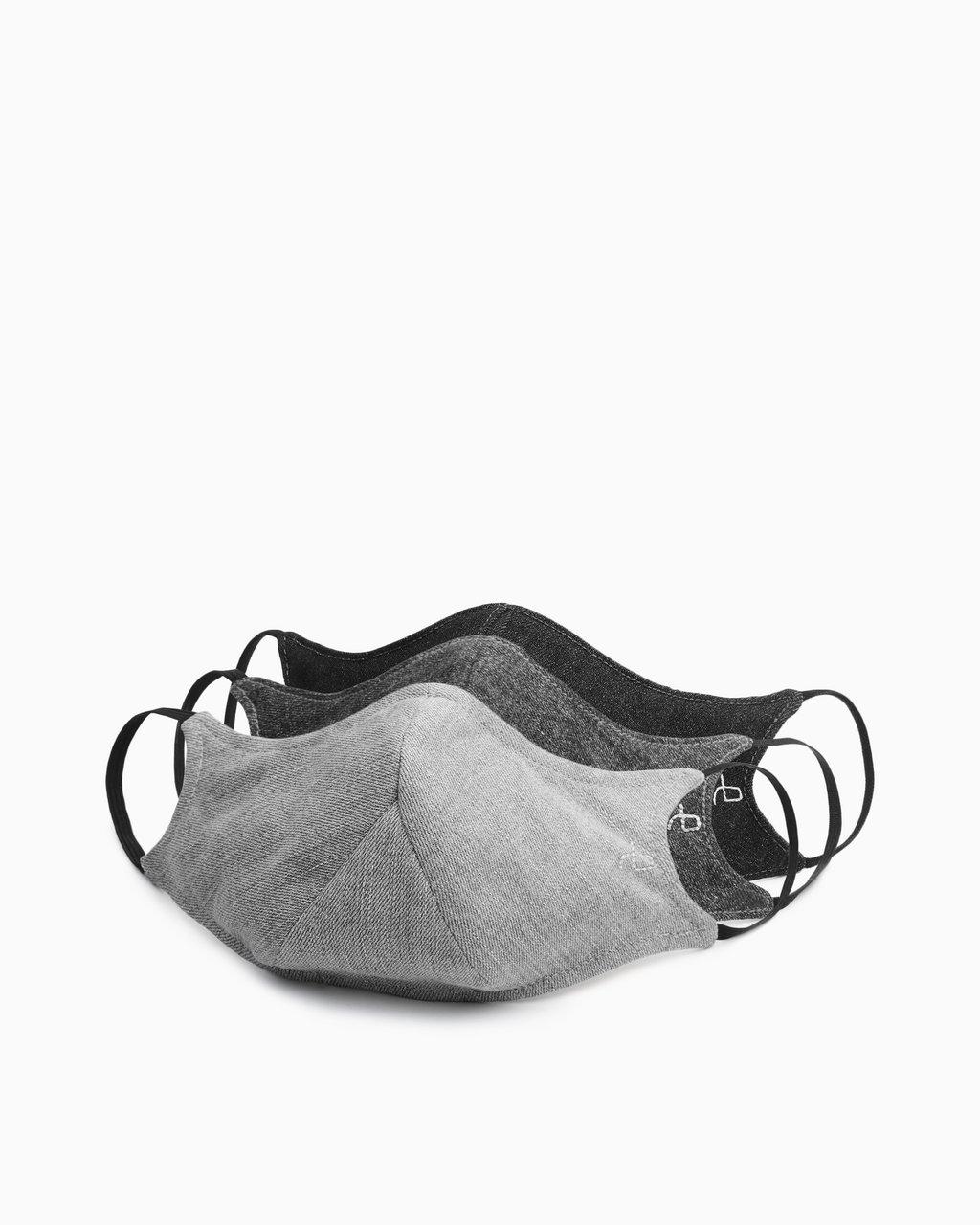 Material: Exterior is 70% Cotton 30% Linen; Interior is 100% cotton
Comfort: Unknown
Tie Method: Ear Loop
Reusable: Yes
Washable: Yes
Price: $$$$ / $$$$
These masks are unique in that they are both stylish and functional. Specifically, they offer a replaceable filter (not pictured). The straps are also adjustable which is rare for many face coverings. You can toss the replacement filters in your travel purse or backpack for use throughout the trip. In addition to the flower petal model shown below, they have a variety of other styles as well.
Material: Inner layer is 100% cotton. Outer layer is a mix of 91.7% polyester fiber and 8.3% spandex
Comfort: Very comfortable
Tie Method: Ear Loop
Reusable: Yes
Washable: Yes
Price: $$$ / $$$
For colder climates the Winter Thermal Neck Scarf is a realistic option. It can be easily pulled up over the face when needed or dropped around the neck when not in use. Can be purchased in 11 different color combinations.
Material: Soft Wool
Comfort: Very comfortable
Tie Method: Neck Gaiter / Elastic Tubular
Reusable: Yes
Washable: Yes
Price: $$ / $$$
Other Options for Face Coverings
In addition to the models noted above, here are several other choice worth considering:
Coast Guard Face Mask…nah never mind (haha, Semper Fi Coasties…)
PS…I am a Jarhead if you can't tell. We've got to have a little fun at our fellow service branches expense.
How to make a face mask for travel
Travelers can make their own face coverings for travel with relative ease. Here's one video that shows you how:
You can see more instructions and videos on how to make a DIY face covering for travel here.
Thanks, Stay Safe, and Happy Traveling (if you get to, anyway)
It might be a while before we are all traveling again on a regular basis. Business travelers may find themselves stuck at home for a while, and leisure travel may be few and far between. If you do get to travel, consider yourself luck, be safe, stay healthy, and enjoy it for all of us!
---
Like many of us, you are probably struggling to find your new normal. Perhaps you've done that and are simply bored. We've got your back. Here's a ton of recent content that revolves around what's facing us today, including working from home ideas, what to watch, things to read, and how to avoid boredom. Enjoy.
Affiliate Disclosure: As an Amazon Associate I earn from qualifying purchases. I may also earn commissions from other affiliate programs as applicable.