It's tough out there right now. Unemployment is skyrocketing. Businesses are shuttering. People are tightening their belts all around. For frequent travelers who are now grounded it might be an opportune time to reevaluate any spurious expenses you may have that are directly related to your travel lifestyle and make some adjustments. Here are 10 things travelers should do to save money when not traveling.
This Damn Virus is Brutal – the time to save money is now
This virus has wreaked havoc on the economy. Experts, pundits and politicians are not wildly optimistic about the future of our economy in the next 18 to 36 months and while there's tremendous variance about depth of this economic slowdown there seems to be agreement on a few things:
The economy is going to be hurting for a while
Travel will be remain significantly reduced for many months (at least)
With that mind, prudent travelers (who are now grounded) need to make appropriate adjustments to their budgets and lifestyle. While we are not financial experts here at the CBoardingGroup (and are not giving formal financial advice here) we do have some practical advice on how to get your budget in order and prepare for a world with little travel for a time.
Here are 10 things you can do to save money if you aren't traveling.
Cancel Unnecessary Credit Cards with Travel Focused Features & Consider Cash Back Cards
Like many savvy travelers you probably use the credit card and points game to fund significant portions of your travel lifestyle. As such, you likely have many credit cards that carry travel specific features. For example, the Chase Sapphire Reserve Card (arguably one of the premier travel credit cards) has features like free Global Entry, no foreign transaction fees, trip insurance, lounge access and more. It's highly unlikely you (or anyone) will be doing much traveling for the next 18-36 months. The folks over at Frequent Miler recently shared a story where they helped someone reduce their credit card fees by nearly $3000!
Action: evaluate your current cards, determine which ones you can cut and cancel them.
Option: Consider switching to cash back credit cards like the Wells Fargo Cash Wise Visa Card which offers $150 cash rewards bonus after spending $500 in the first 3 months and 1.5% cash back on every purchase.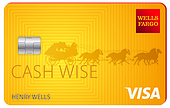 Try to get your Credit Card Fees Reduced!
Step two in your not-traveling-save-money journey is to see if you can get the annual fees reduced on the cards you do keep. This well know hack is simple…simply call the credit card issuer and ask for a reduction in your annual fees. Bankrate notes that many issuers want to keep your business and may well be willing to work with you. If that doesn't work you may also be able to downgrade your card to a less expensive card in their portfolio.
Action: call your credit card issuer and ask for lower annual fees.
Cancel your International Phone Plans
With international travel being extremely unlikely you should cancel any international coverage charges you have with your wireless provider. For example, AT&T's Passport plan charges you $30/mo for international service. That's money you don't need to spend.
Action: Review your wireless plan and reduce unnecessary international wireless fees
If you are looking for ways to make more money from home right now, check out 11 Ways to Earn Extra Cash from Home where you will find practical suggestions for realistic side hustles
Pause or Cancel your Clear Membership
Many frequent travelers leverage their Clear membership to get thorough airport security even faster than TSA PreCheck. This biometric-based service is incredibly handy but it comes at a steep price of $179 per year. Depending on where you are at in your annual membership you can cancel your service and receive a prorated refund.
Alternatively, you could try to pause it. The folks at Miles to Memories shared a story where a reader attempted to cancel their membership and were pitched an offer to pause it for 3 months, thereby effectively pushing the end date out 3 months before your renewal fee is due. The fellas over at No Mas Coach shared a story where they added 3 months to their Clear membership via chat. Your mileage may vary, but it's worth a shot.
Action: cancel or pause your membership. To cancel, follow these steps. To pause, you will need to call their customer service line.
Cancel any recurring airline fees (like Frontier's Discount Den) if you can
Frontier has an interesting product known as Discount Den which charges user 59.99 a year and gives travelers access to special fares and features (like kids flying free). It's a pretty good deal for low-end travel fares. In this environment, it might be worth canceling these types of services or at least not renewing them.
Action: Review your annual or monthly travel provider services (like Discount Den) and consider cancelling for a refund or not renewing.
Cancel any monthly WiFi services (like Boingo or GoGo)
While most airports now have free WiFi many sell higher speed access through services like Boingo (which you can also use at other non-airport locations). If you aren't out traveling as much, it's time to cancel them. For example, Boingo sells unlimited access for 14.99/mo. That's easy money to bring back into your budget, if you need it.
Same goes for GoGo Inflight WiFi which is allowing subscribers to suspend their membership instead of canceling it. Smart move.
Action: Review any monthly WiFi services you may used traveling and ax 'em!
Take a long hard look any Travel Subscription Boxes you may have
If you are one of the folks that has subscribed to the myriad of travel subscription boxes like Jet Setter Chic or Explore Local, it might be time to consider cutting these expenses. While you could make a case that if you can't travel this is a creative way to bring travel to you (and that's valuable, btw) if it's truly time to tighten the belt, these services may need to go.
Action: Take a long hard look at any travel subscription boxes and cut them as necessary.
Cancel any travel gym memberships
Healthy travelers often use services like ClassPass or Zeemo to ensure they can workout wherever they are traveling. With limited travel on the horizon it might be time for you to cancel or pause your memberships. Whether you will be able to do that will depend completely on the service you've signed up for, but it's definitely worth a look.
Action: See if you can cancel gym memberships you use when traveling
Call your auto insurance company – you might be able to get a reduced rate
If you live in California you may get a refund automatically. For other states you may be able to score a reduction or refund in your auto insurance costs. In fact, some insurers are proactively doing this. Why? With stay at home orders covering all 50 states now, people are simply not driving as much. Less driving equals less risk and thus less cost. If you've not done so already, check with your insurance company and you may be eligible for a refund or at least a reduction on future costs.
Action: Reach out to your insurance agent and see if you can score a refund.
Lower your gas and auto maintenance budget
If you aren't traveling as much you may be able to save some money on gas and auto maintenance fees. For example, as a frequent business traveler I drive my car to / from the airport every week. That's not going to happen for a long while. I've already reduced my gas budget allocation and diverted those funds into other areas of my budget (right now, it's food…because we are all eating way to much!).
Same goes for your auto maintenance allocation. You won't need oil changes or new tires as frequently so you may be able to redirect those funds into other portions of your budget.
Action: calculate the reduced vehicle usage and adjust your gas and auto maintenance budgets
Summary of the 10 Things Travelers can do to Save Money while not Traveling
Cancel unnecessary credit cards
Ask to get your credit card fees reduced
International wireless fees
Pause your Clear membership
Cancel any recurring airline fees (like Frontier's Discount Den) if you can
Cancel any monthly WiFi services (like Boingo or GoGo)
Take on long hard look at any Travel Subscription Boxes you may have
Cancel your travel gym memberships
Call your auto insurance company
Lower your gas and auto maintenance budget
Thanks, Stay Safe and Save Money!
Like many of us, you are probably struggling to find your new normal. Perhaps you've done that and are simply bored. We've got your back. Here's a ton of recent content that revolves around what's facing us today, including working from home ideas, what to watch, things to read, and how to avoid boredom. Enjoy.