Never ever do these 3 things when renting a car! These days, renting a car is pretty easy, but did you know there are a few things renters should be very wary of when renting a car? Yep. These gotchas can add unnecessary cost or hassle to your trip. Here are the 3 Things you should NEVER do with a Rental Car.
Be sure to check out our entire "Never do this while traveling" series, including fan favorite, 3 Things to Never, Ever do in a Hotel.Â
3 Things you should NEVER do with a Rental Car
By way of summary, here are the 3 things you should never do with a rental car. We examine each in more detail in the subsequent sections.
Get the insurance
Prepay your gas
Return your car without filling it up
Why you should always decline car rental insurance
Never get the insurance. It's a borderline scam and you probably don't need it. Specifically, we are talking about the Collision Damage Waiver (CDW) option renters are offered when renting a car. As the folks at Smarter Travel note, "…when you buy a CDW, the rental company surrenders its rights to charge you for damage to a car rental." In other words, you can pretty much bash the car around and walk away with no additional cost.
If you are renting a car for personal reasons your primary auto insurance extends to rental car use, however you may have to pay a deductible and, as always, the terms of your specific policy may vary slightly. This is a great benefit of simply having basic auto insurance.
Moreover, when renting the car for personal reasons there is a pretty good chance you have a credit card that will provide rental car coverage at no additional cost. Most, although not all, credit cards provide some sort of car rental insurance that covers many of incidents you may run into and include basic collision, theft coverage, etc. This is known as secondary coverage (your personal auto insurance is primary coverage).
In other words, the credit card pays what your personal auto insurance doesn't which often includes your personal auto insurance deductible (sweet!). For example the CapitalOne Platinum Card includes secondary coverage for those renting cars.
Some cards, like the Chase Sapphire Preferred Card, offer what's known as Primary Coverage which is considered a real perk by card holders of these cards. In this situation it's going to an extremely rare situation where a renter will have to pay anything related to rental car damage barring significant negligence or criminal activities, etc.
The extremely well regarded Chase Sapphire Preferred Card offers a compelling car insurance benefit for cardholders by offering it's card holders PRIMARY coverage: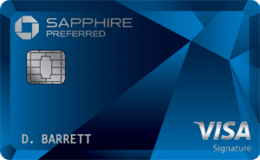 The Chase Sapphire Preferred Card Includes Car Rental Coverage Features
Renting a car for a work trip
If you are renting it a work trip then your company's insurance will cover damage. In fact, many companies expressly prohibit employees from purchasing additional rental car insurance.
Never prepay your gas when renting a car
The second in our list of "never do this when renting a car" is prepaying your gas. Yup, this is more than just maybe a scam. It IS a scam.
Rental car companies entice you to pay for your gas up front instead of having to bring it back full. Sounds like a nice convenient perk, no? No, is right. What really happens is the rental car companies charge your for a full tank of gas regardless of how much you actually drive.
Let's say you only drive 100 miles and your gas tank is sitting a tad above half full. Too bad. You already prepaid for a full tank. Unless you drive the car until it's on it's last fumes you are going to get a raw deal.
Always, always, always pass on prepaying your gas when renting a car.
Customized Boarding Pass Passport Cover (Check Price)
Miss out on your rental car points
Rental car rewards programs are typically not the most lucrative loyalty programs on the planet. Usually you have to spend or rent a fair bit to really make the program pay off, but why miss out on the points!
If nothing else, try to earn the points and transfer them to another program. Look for special offers between airline and rental car companies (like Hertz and United) to maximize the total points earned off your car rental (including airline miles).
You can use your rental car points to earn free rental car days and who doesn't love free?
Some other things you should avoid doing when renting a car
We could have made this list about 10 or 12 deep, but we topped it off at three. However, there are a few other things car renters should avoid we briefly touch on below. Some are serious. Some are funny-ish.
Not getting an AC Mounted Cell Phone Holder. No need to have your cell phone flopping around on the floor of your rental car while you try to see what the next turn on you Nav system is. Instead, get a portable and removable AC mounted cell phone holder. Boom. Problem solved.
Never rent a nav system. Speaking of nav systems, there's no need to rent one these days. Use your phone silly.
Forgetting to inspect your car before you drive it off the lot. Depending on your solution to insurance (see above) this may be a moot point, but you'd still potentially have to deal with hassle of claims, etc. It's better to simply give your vehicle a once over and take note of any damage before you drive off the lot.
Renting from Avis. This is half joke half serious. We are not big fans of Avis here and prefer to rent from National whenever we can.
Not getting the convertible. Always get the convertible. 🙂
Other Rental Car Tips & Tricks we cover
We've covered the topic of rental cars quite extensively here at the CBoardingGroup including rental car hacks, loyalty program overviews and more. Here is a detailed list of all of our current rental car content:
Thanks for stopping in
As always we appreciate your visits to this business travel blog. Be sure to check regularly for more great travel content.
If you liked this content, please do us a favor share it on social media and click the "like" button below and don't forget to follow us on social media including Twitter, Instagram, Pinterest and Facebook.
And, of course, if you are interested in more travel tips and travel advice and product reviews, you might like these great articles:
Pin These:
Affiliate Disclosure: As an Amazon Associate I earn from qualifying purchases. I may also earn commissions from other affiliate programs as applicable.